9/30: Details. Here's a quick photo dump of some travel-inspired details of our wedding. Apparently, Josiah's Catering made ours the featured wedding of the month (September), so hover over their website or scroll down this post to read the lovely writeup they did about us. (: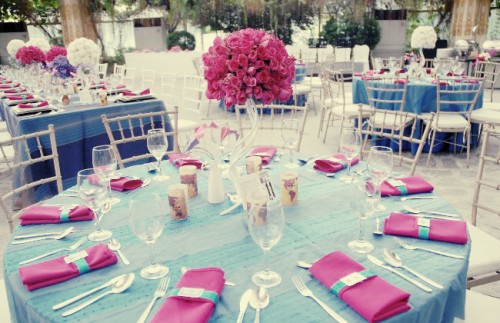 Suppliers: Catering, Setup and Styling by Josiah's Catering, Cake by Treatbox, Wedding Rings by Matus Jewellery, DIY Wedding Invitations made by yours truly *bows*. Photo credit: Photos are either taken by my brother Nate Sanchez or taken off Josiah's Catering's Facebook account.
Read our feature at Josiah's after the jump! Whoever wrote this really did it well, thank you. 
Wedding Bells Ringing From New York To Manila
Featured at Josiahcatering.com 

For the past 11 years, couple David Oyos and Rhiza Sanchez only spent 63 days in each other's arms. And when they finally decided to exchange their loving vows last August, they made sure that the most special day of their lives will be an unforgettable celebration.

Josiah's Catering—a household name and the most sought-after caterer in the Philippine food servicing industry for the past two decades—showcased its creativity and innovation anew as it brought the newly-wed couple's dream wedding into a reality at Fernbrook Gardens in Portofino New Alabang.

Having gone through a long-distance relationship for more than a decade—David being in New York and Rhiza in Manila—Josiah's Catering made the gathering even more special with a fresh brand of customized theme that was a perfect retelling of the couple's love story.

Aside from a delectable serving of exquisitely-made dishes, Josiah's dotted each table with white, pink, and purple flower bouquets that complemented the wedding's chic theme. Tiny paper airplanes in purple and pink served as centerpiece accents on each table, along with world-map printed glasses that were used as votives for the candles.

Custom-made postcards that bear romantic trivia about David and Rhiza's love affair served as table numbers, while a collage of the couple's photos were made into a photo wall. Each guest was also handed their own escort cards, which also served as the couple's wedding giveaways—in the form of their favorite sweets and candies.

Truly, couples wishing to make their lifetime vows can now do so within a dream with Josiah's Catering. With all the quality, innovation, and brilliance that Josiah's Catering brought to David and Rhiza's most special day, wedding bells are sure to keep on ringing from New York to Manila.