Initial thoughts on choosing the Mt. Ulap Eco-trail as our first legit mountain climbing experience: what in the world were we thinking?!
Take this from someone who couldn't even consider herself a "beginner" mountain climber. I was basically clueless, save for having read some blogs prior to the climb which, by the way, all raved about how awesome it is to climb this mountain.
For your 411, just because my domain name says "chasing dreams" doesn't mean I'm your regular adventure-chasing type of blogger. :) Although I generally love to travel, I'm a city girl and a homebody through and through. My idea of "adventure" is exploring the world through the pages of a book, preferably tucked in the warmth of my blanket, with a cup of caffeinated drink within reach.
Climbing any mountain is way beyond my comfort zone, never really making it to my bucket list at any given point in my life.
But I climbed Mt. Ulap, anyway.
(Because I'd go anywhere with this guy.)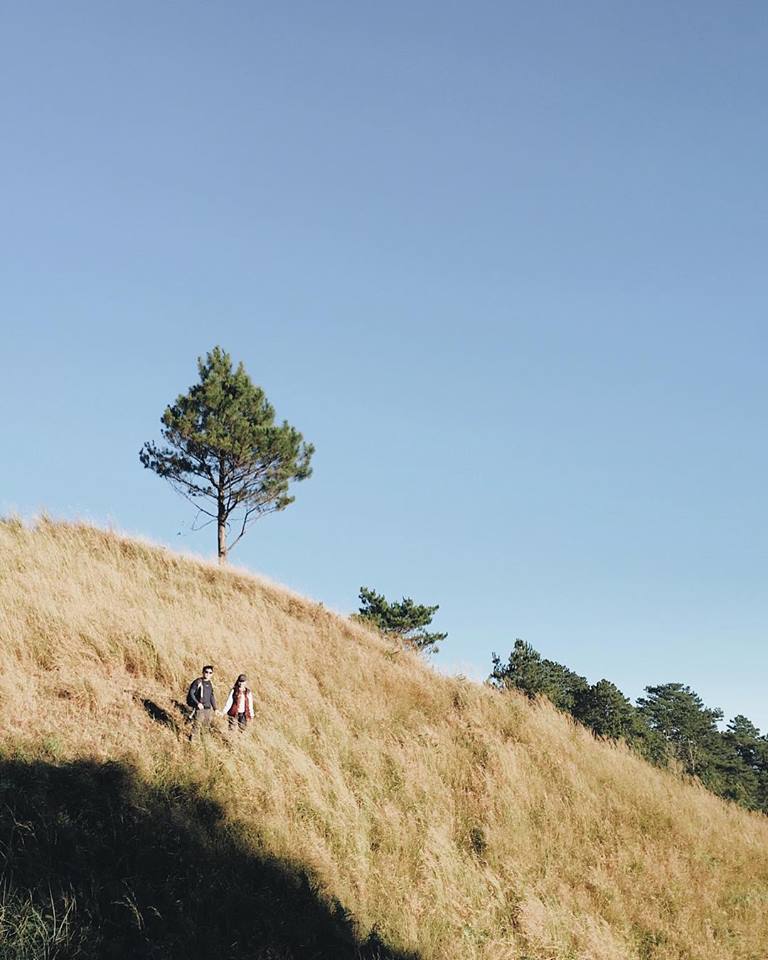 Mt. Ulap beginner tip #1
Keep adventurous people in your inner circles. (Or marry one.)
This guy's the only reason why I considered climbing this mountain. Had he not persisted in convincing me to do the Mt. Ulap Eco-Trail, I wouldn't have known what I was missing. Kinda like his role in my life, really—constantly challenging me and stretching my capacity to believe, to "just go for it", to climb higher, to dream bigger.
And that is what this Ulap experience was about for me: a romantic comedy, basically. ;)
Reluctant as I was, we came out on the other side alive, tired and breathless, sore muscles everywhere, nevertheless without regrets.
And now that that has been said, here's my humble collection of photos, notes, and thoughts—and a fair share of warnings—from our Mount Ulap Eco-Trail experience.
There are many people climbing this mountain solo or with a group who ultimately have a meaningful and unforgettable experience. But in my case, I wouldn't (and generally couldn't) climb this mountain without David.
Whatever your circumstances and motivations are for wanting to climb this mountain, I hope you pick up a thing or two from this post.
Mt. Ulap beginner tip #2
If you're a first-timer (meaning you've no experience climbing any mountain in the past), think twice about going for this mountain right off the gate. This guide specifically answers whether or not Mt. Ulap is for you. The gist is, it's most ideal if you practice climbing easier mountains first.
Quick facts from PinoyMountaineer.com
Mount Ulap, Itogon, Benguet
Entry point: Brgy. Ampucao, Itogon
Exit point: Brgy. Sta. Fe, Itogon
LLA: 16.2904 N, 120.6312 E, 1846 MASL
Days required / Hours to summit: 1 day / 2-3 hours ~ehem?
Difficulty: 3/9 ~uh, no.
Features: Grassland and pine ridges, scenic views of the Cordilleras, burial caves
Quick notes from ME, haha
Hours to summit
It's no secret that the Pinoy mountaineers who made it to the Ulap summit in record 2-3 hours are people who've been climbing mountains forever.
As for us, a mixed group of beginner, intermediate, and experienced climbers (all of us, Ulap first-timers), it took us 10-11 hours from jump-off point to finish line. Take note that we rested for about an hour in one of the summits and slowed down a notch during descent because we were all tired.
Level of difficulty
Not gonna lie. Having read from blogs that the level of difficulty was only 3/9 gave me the impression that it was easy. This kind of underestimation is dangerous, so don't be like me who read a few blog reviews and immediately assumed that Mt. Ulap was an easy mountain.
Even some of the more experienced climbers in our group thoughtfully assessed that Mt. Ulap seems more difficult than its equally famous Cordillera mountain sibling, Mt. Pulag, because even though Pulag is higher and requires longer walks, the inclines there are not steep and a lot more gradual than in Mt. Ulap.
Mt. Ulap Beginner Tip #3
Don't take the preparations lightly. Have some solid cardio workout and leg strengthening exercises weeks or months before the climb.
The first phase of the Mt. Ulap trail is characterized by steep ascents that had my lungs and legs shookt. 15 mins in and I already wanted to quit, if I'm being honest. :) As a disclaimer, I do live a pretty sedentary chill lifestyle, not having to leave the house to get to work, sitting in front of my home office day in and out, with my only workouts being afternoon walks to a nearby milk tea shop. I obviously downplayed preparing for this excursion.
Just the same, the idea that I'm climbing my first mountain ever, not to mention the unique beauty of the Cordilleras kept me going.
Between steep ascents and narrow trails we stopped to catch our breaths, basking in the beauty of the Cordilleras, and breathing in the smell of pine trees and cool breeze.
Pinoy Mountaineer described it best: "The majestic mountains of the Philippines lie on its largest mountain range, the Cordilleras in Northern Luzon. It is home to highland peoples who have developed a fascinating mountain culture which is manifest in the world-famous Rice Terraces. Tourists are enchanted with the semi-temperate climate of the region, which is a refreshing change from the tropical lowlands. Pine trees, rolling slopes, and vegetable farms characterize much of the region's landscapes." 
There's much to see everywhere you look! And the semi-temperate climate is a bonus, for sure.
3 kilometers in, we reached the first summit called Ambanaw Paoay.
Ambanao Paoay may be my favorite summit of the 3 summits in Mt. Ulap. Partly because our energy levels were still high at this point in the journey, mostly because this was where it all began—the vast rolling hills and grasslands and blue skies. All the things that made me glad we pushed through and showed up.
Literally all the photographs you take at this point are keepers, and you know that this is exactly what you came here for.
There's the blend of grasslands and forest trees and fluffy clouds set on clear blue skies. There were mountain dogs and grazing cows here and there; and although there seemed to be no sightings of them, the sound of chirping birds and crickets accompanied us as we went.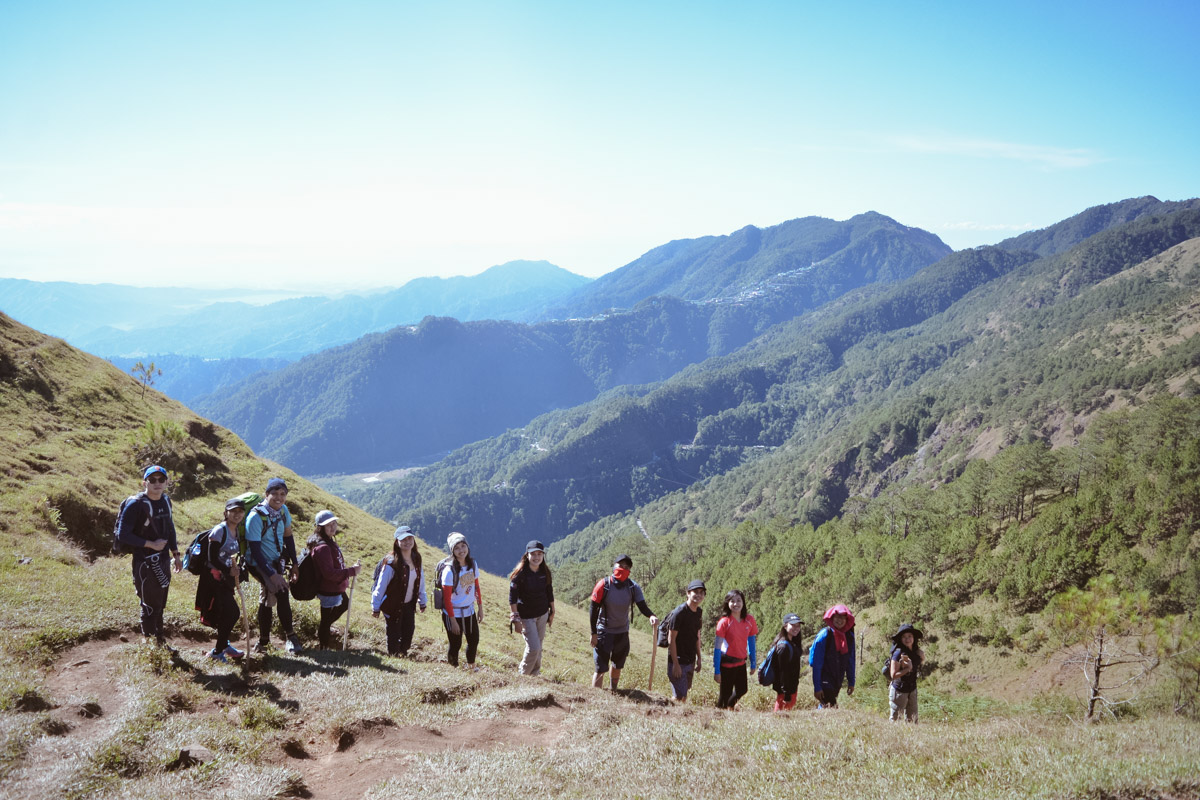 My husband and I were self-proclaimed sweepers, naturally. In this group, we're on the higher end of the spectrum, age-wise, but we're basically babies, mountain climbing experience-wise. ;) Let's just say we let the younger people take the lead on this one.
There were parts in the trail that I just wanted to get over with, and there were parts that I wish lasted a little bit longer. Moments I wanted to just lie down on the grass and watch the clouds move. Moments I felt like bursting into a song (if you're thinking "the hills are alive with the sound of music", you bet!).
And moments when David and I trailed behind, the sound of nature surrounding us and, for one fleeting second, Mt. Ulap was all ours. 
I understand now why those who've experienced climbing mountains only want to climb more. The experience is almost.. cathartic. There's pain and pleasure to it, from start to finish, both at the same time, and I understand now why people are hooked.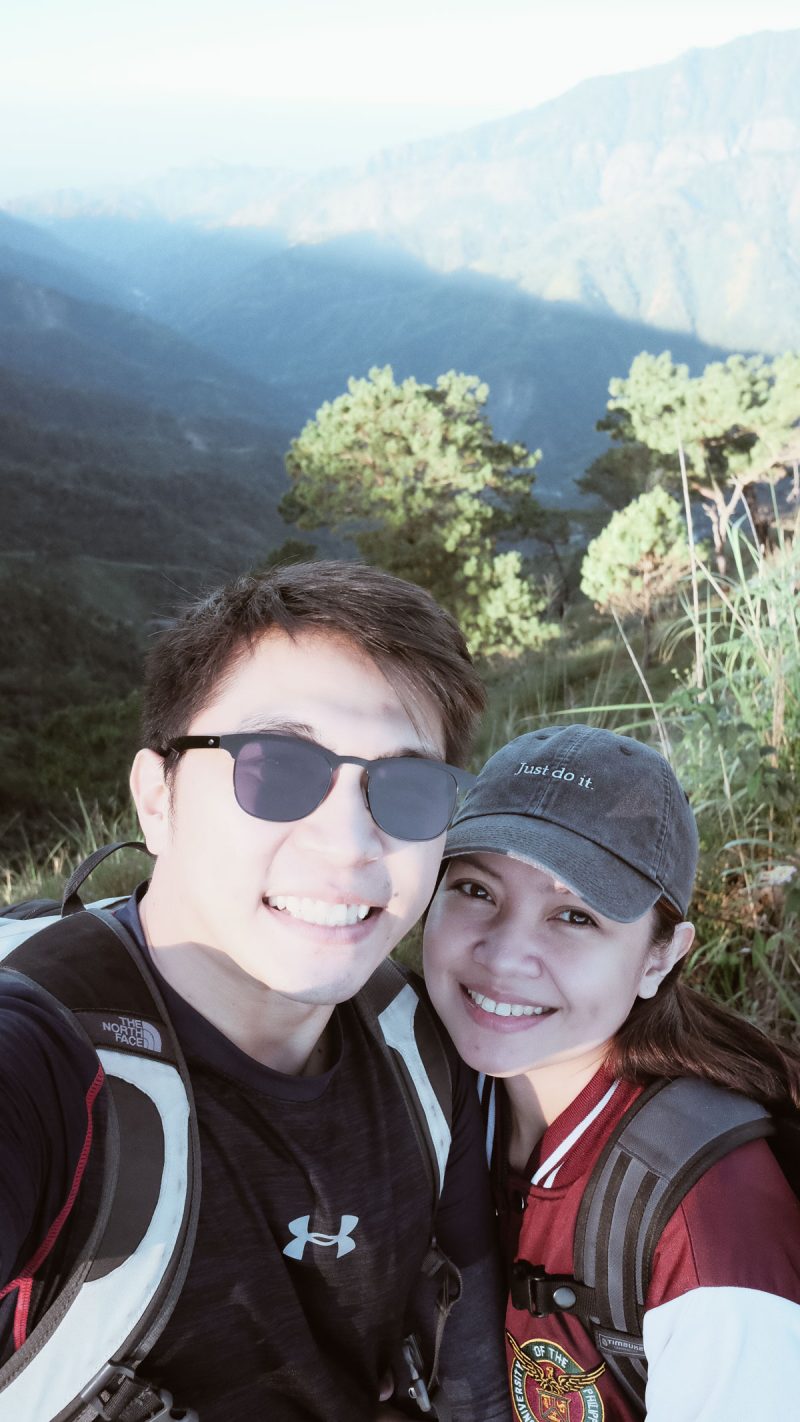 Mt. Ulap Beginner Tip #4
Skipping the token photo at Gungal Rock does not make your Mt. Ulap experience incomplete.
The second summit is all about the famous Gungal Rock. (Google it!) This, they say, is the ultimate Mt. Ulap photo op you have to do "for the 'gram."
Unfortunately, there were so many tourists at the time, all willing to line up to have their photos taken on the rock. Our group decided to skip it, move on, and we didn't feel like we missed anything at all.
The rest of the second summit was a blur.
One foot after the other, we quietly followed the trail and looked up every few seconds or so to marvel at the beauty going on around us.
In between those moments of beauty were also quick moments of doubt. Will we make it unscathed? What are we doing here again? What is David thinking? (Lol.) Is this really worth it? I knew the answers to these questions but I asked them in my head anyway.
At 6km mark, we were told that the much-anticipated Mt. Ulap summit was just around the corner. One more stretch, one more 5-minute break, one more push, one more deep breath. Finally, at 1:15 PM, we made it to the top of the clouds.
Mt. Ulap Beginner Tip #5
To say that Ulap is tough for first-timers is an understatement, but don't let blogs (like this one) discourage you from going anyway. With the right support group, the proper guidance, and a positive attitude (and preferably a lot of cardio and leg exercises pre-climb), it's not impossible for beginners like us to conquer this mountain.
Take it from me, the least likely person in the world to make it to Mt. Ulap but made it anyway.
To be able to say "we're on top of the clouds" and mean it literally and figuratively? Surreal.
There was zero visibility at one point while we were at the summit, which means we were right inside a huge ball of clouds. Ulap, in Tagalog, is "cloud", and you bet this mountain lives up to its name.
Any feeling of exhaustion was gone during that one defining moment at the top of Mt. Ulap, 1,846 meters above sea level.
No photo can justify it, not even words. It's like a secret that only Mt. Ulap survivors know, a shared experience that is singularly and forever ours.
I lifted a quiet praise to God, smiling at the thought that this is literally the closest I've come to the heavens, by foot! And to know that the Creator of this mountain, the God of the universe, our Reason for being—God in His majesty and massive glory—was with us and around us every step of the way? What a gift!
A song of ascents. I lift up my eyes to the mountains— where does my help come from? My help comes from the LORD, the Maker of heaven and earth.

Psalm 121: 1-2
Everything was glorious until the final descent began.
With whatever's left of our energy, we descended through a rocky, relentless, 80-degree cliff trail—the price we had to pay for this mountaintop experience. I thought we had it tough during ascent but the descent was even more intense. Energy levels were low, the adrenalin was quickly running out, and all the muscles (and bones!) were sore.
I focused on my feet and followed the trail, motivating myself with thoughts of Dawn and Rain waiting for us at home. Every once in a while, David would squeeze my hand as if to remind me, we got this.
9 kilometers later, we made it to finish line, washed up, got food, and basically slept through the entire trip from Baguio back to Manila.
---
Today, a few months later, I write this post and remember our Mt. Ulap experience with a tiny bit of pride (filed under "Stories to Tell The Grand Children" for sure) and a great amount of humility at the same time. Even now, looking at these photographs, I still can't believe I made it in-and-out of that huge mountain without fainting or being brought home in a wheelchair or something haha.
Will we do the Mt. Ulap Eco-Trail again? Maybe not. (We'd love to try a different mountain next time!)
Do we regret climbing Mt. Ulap? Most definitely NOT. 
Mt. Ulap "beginner tips" aside, there's much to be learned about climbing mountains.
It's impossible to climb a mountain (and to write about the experience) without processing everything in metaphors, really. On faith, love, marriage, success, creativity, pursuits, trials, heartbreaks, life, God.
The mountaintop experience is exhilarating, but it is in the upward and downward slopes that God shows us what He's truly able to accomplish in us, and in the valleys that we actually grow.
It was a much-needed challenge both for myself as a person, and for me and David as a couple. It brought us to a higher level of trust for each other and reliance in God, a literal mountaintop experience (with all the uphill, downhill, and valley moments it came with), and a tangible illustration of all the mountains we climbed and have to climb in this life.
The trick, I learned, is to keep going, no matter how fast or how slow you go. Whether you're pushing through an upward slope that seems to not end, or trekking through rough terrains, or walking with zero visibility and you can't see what's ahead—just keep going!
Take deep breaths, stop and rest when needed, pull yourself up and do it all over again. One step at a time, one hill, one camp, one summit.
There will be hesitations, there will be doubts. There will be parts where you feel like giving up and moments when you want to drop everything and quit. Keep climbing anyway.
You'll reach the peak soon, but while you're in the valley, look up, enjoy the view, worship, live.
And no, you don't have to do it alone. ;)
---
This Mt. Ulap Eco-Trail experience was made possible through the Ohana Trekkers Group. Thanks, guys.